Press Releases
OnePlus partners with EE to be the first to release a commercial 5G smartphone in Europe
December 5, 2018 – OnePlus CEO Pete Lau announced today that OnePlus will be the first to release a 5G commercial smartphone in Europe. The handset will be available first on UK operator EE, which is the UK's number one mobile network and part of BT Group. The new handset will also be powered by Qualcomm Technologies' new premium-tier mobile platform, Qualcomm® Snapdragon™ 855 Mobile Platform and be available in 2019.
The announcement was made at the Qualcomm Snapdragon Technology Summit 2018 held in Hawaii on Dec 5. The Summit brings together global industry leaders including the world's biggest device manufacturers, operators, and technology companies.
At the summit, OnePlus reaffirmed its leading position in the premium global smartphone market and stood out as a pioneer in the field of 5G. According to Counterpoint Research, it is now among the top five high-end smartphone Android brands across the world, and holds the most market share in the premium smartphone segment in India. OnePlus also partners with T-Mobile to sell OnePlus 6T across 5600 T-Mobile offline stores around the United States.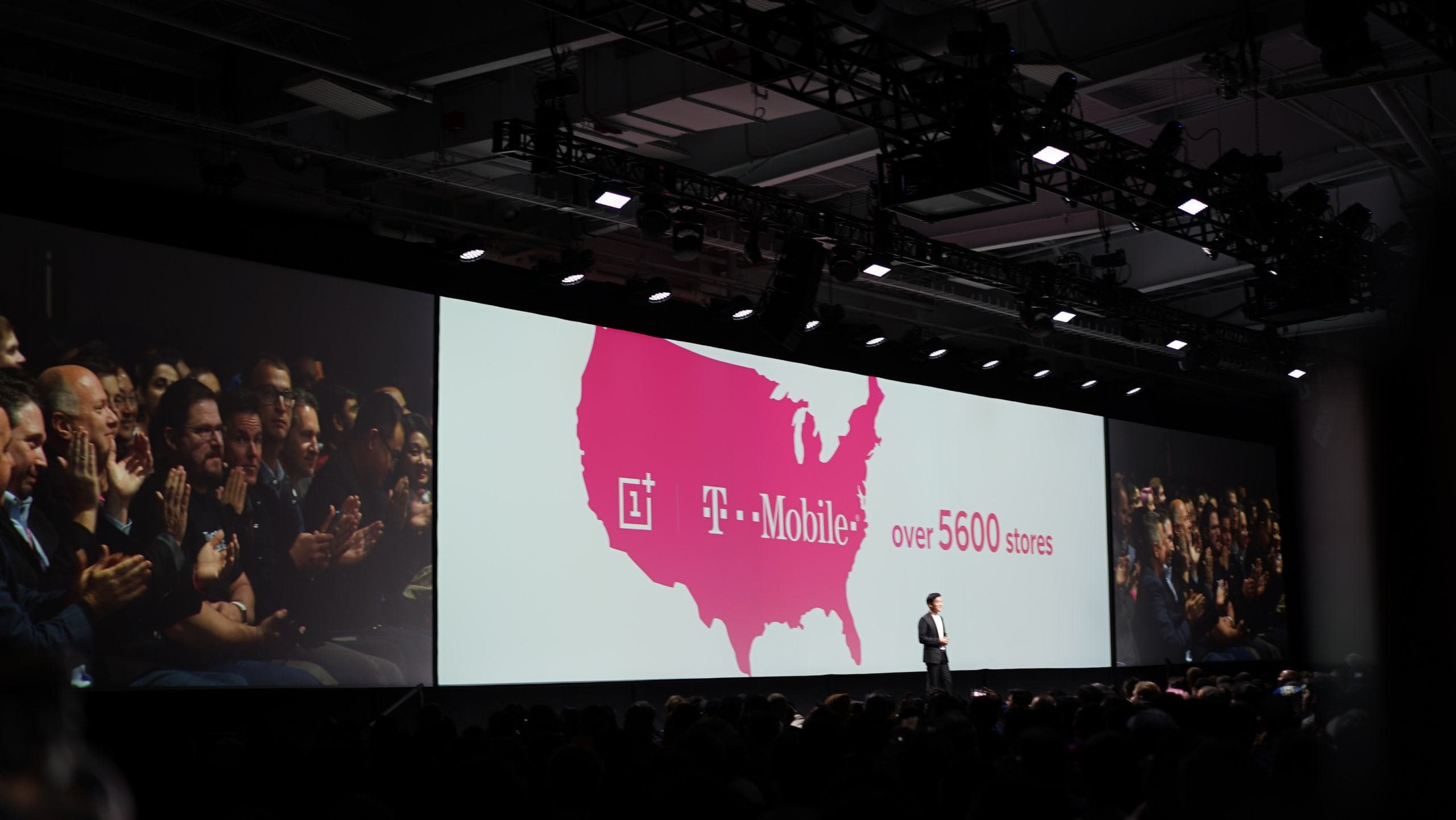 OnePlus demonstrated strong capabilities in partnering with carriers such as EE to push forward the era of 5G multi-gigabit connectivity. EE runs the UK's biggest and fastest mobile network, offering superfast 4G in more places than any other operator, and will be switching on 5G sites in 16 UK cities in 2019. The first launch cities will be the UK's four capital cities – London, Cardiff, Edinburgh and Belfast – and Birmingham and Manchester. OnePlus and EE are working on an R&D partnership to ensure the best possible 5G connected experience for customers.
Marc Allera, CEO of BT's Consumer division, said: "EE and OnePlus have a shared vision: to give our customers the best connected experience possible. We're working together on cutting edge technology to deliver that, and we're leading the world on the journey to 5G. Adding 5G to the UK's number one 4G network will increase reliability, increase speeds, and keep our customers connected where they need it most. We have an ambition to connect our customers to 4G, 5G or Wi-Fi 100% of the time."
In the meanwhile, OnePlus has been collaborating with Qualcomm on 5G development since 2017. In October 2018,Pete Lau made the world's first 5G tweet. The two have made significant strides in getting a handset prepped for 5G commercialization in 2019. OnePlus will be among the first smartphone companies to power the new flagship with the Qualcomm® Snapdragon™ 855, to provide users with unmatched speed, performance, and intelligence for the new decade of wireless experience.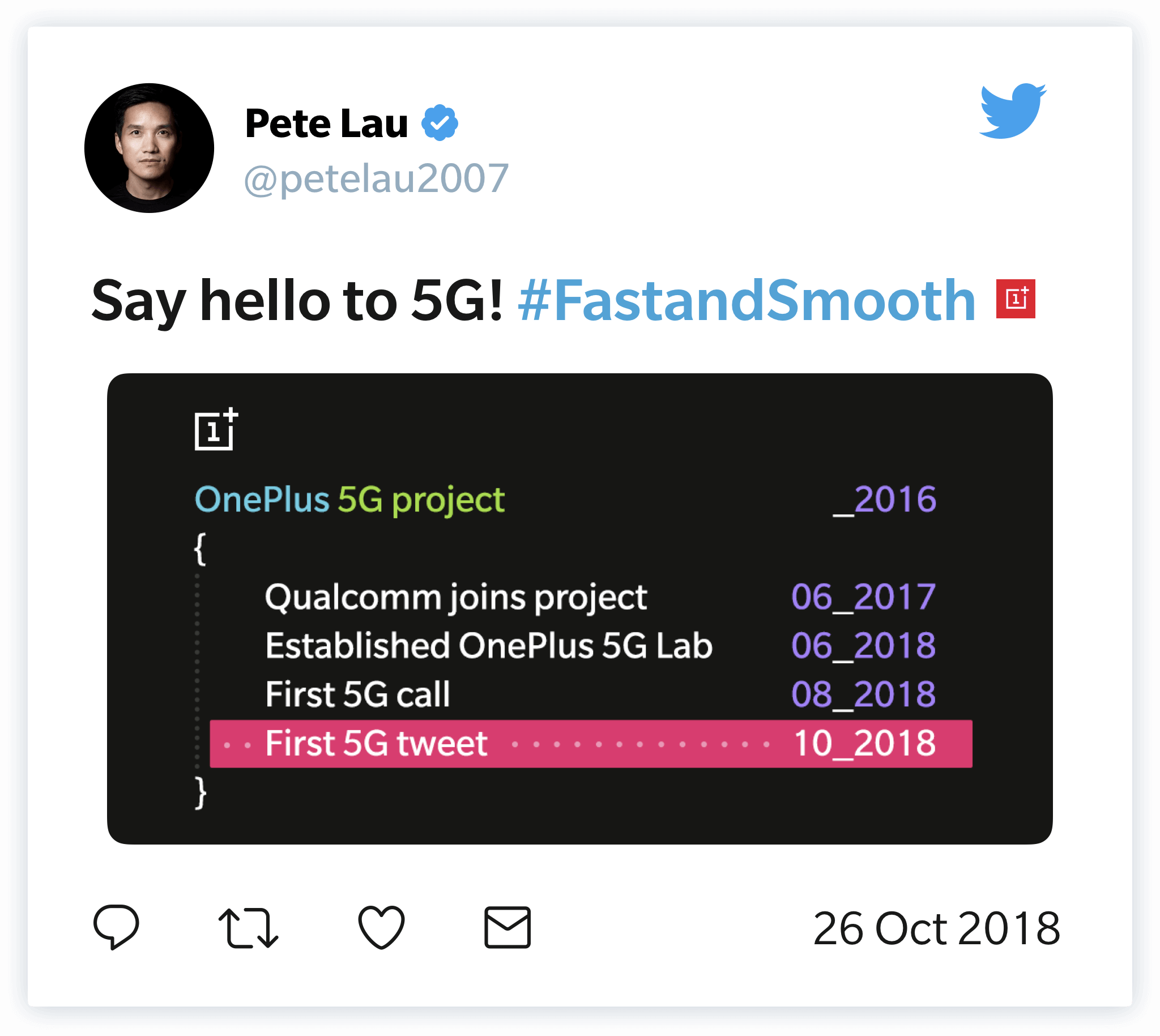 Pete Lau said at the event, "The pursuit of speed has defined the OnePlus DNA since OnePlus was founded five years ago. There's no one more suitable than OnePlus to make a 5G smartphone. Our users are always eager to try new things and they are now ready to experience the next generation of connectivity and speed. In response, OnePlus has poured efforts into 5G research since 2016. Today, we stand poised to embrace the dawn of 5G."
The new generation of OnePlus 5G flagship devices will reach consumers in 2019.
About OnePlus
OnePlus is a global mobile technology company challenging conventional concepts of technology. Created around the "Never Settle" mantra, OnePlus creates exquisitely designed devices with premium build quality and high-performance hardware. OnePlus thrives on cultivating strong bonds and growing together with its community of users and fans. For more information, please visit OnePlus.com.
Qualcomm and Snapdragon are trademarks of Qualcomm Incorporated, registered in the United States and other countries.
Qualcomm Snapdragon is a product of Qualcomm Technologies, Inc. and/or its subsidiaries.