How to unlock bootloader for OnePlus smart Phone
Step1. Make sure you have unlock your SIM card
Learning how to unlock SIM from T Mobile
https://www.t-mobile.com/responsibility/consumer-info/policies/sim-unlock-policy
https://support.t-mobile.com/docs/DOC-14011
Step2. Enable "OEM unlocking" from Settings UI
Settings > System > Developer options > OEM unlocking
Step 3. Get IMEI by dial *#06#
Step 4. Enter fastboot mode to get unlock code
Download "fastboot_windows.zip" and unzip it on your computer. Remember the "root directory "

Power off your OnePlus 6T. Press and hold"Volume +"and "Volume -".Then Press power key to enter "fastboot mode"

Connect to your computer > Command:cd "root directory "> Command: fastboot.exe oem get_unlock_code
Step 5. Provide your IMEI and unlock code to get the unlock token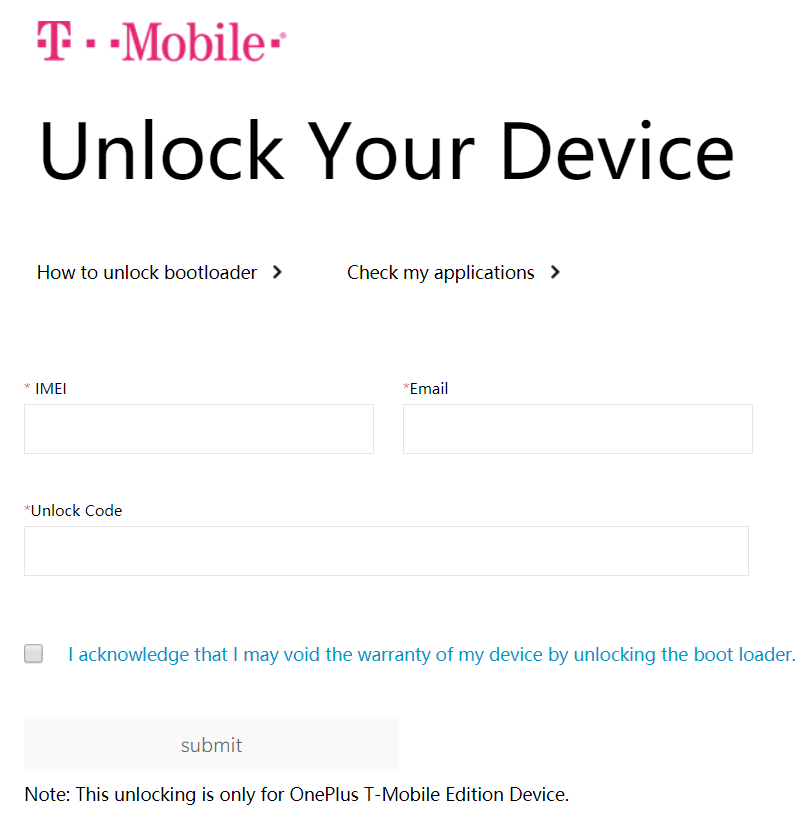 OEM Unlock Service Webpage (Link)
Step 6. Enter fastboot mode to flash unlock token
Command: fastboot flash cust-unlock <unlock_token.bin>
Expected result:
Step 7. Unlock your device.
Command: fastboot oem unlock
Applicable models: OnePlus 6T,OnePlus 7Pro,OnePlus 7TPro(5G),OnePlus 7T,OnePlus 8 5G,OnePlus 8T 5G,OnePlus Nord N100,OnePlus Nord N10 5G,OnePlus 9 5G,OnePlus 9Pro 5G,OnePlus Nord N200 5G
Expected result:
Command: fastboot flashing unlock
Applicable models: OnePlus 10Pro 5G,OnePlus Nord N20 5G
Expected result:
Use volume key to select 'UNLOCK THE BOOTLOADER'
FAQS
Q1: Why do I need to apply for a token?
Answer: If you want to root your device or flash a customer ROM, OEM unlock is the first technical step for those operation after you have the SIM unlocked. Please note that:
OEM unlock service is provided for T-Mobile version user, non TMO user can unlock the device without this service.

Unlock device is not a totally safe operation, there are risks in this unlock operation. So, please be very careful to do this operation.
Q2: When can I receive the token after application?
Answer: We will send the token to your email address which you provided in the OEM unlock service webpage in 7 days after you completed the submission.
Q3: Will my device under the warranty after unlocking?
Answer:
This is only for T-Mobile Edition user.

For carrier devices, the operation of unlock the bootloader might against the carrier's warranty limited. Please contact OnePlus customer support for further help once your device encounters technical issue after unlocking. OnePlus customer support
Q4: Any risks after unlocking the bootloader?
Answer: Please be aware that OnePlus couldn't guarantee the full functionality, and will not be responsible, for any 3rd unsigned custom ROM being flashed to your device after the bootloader is unlocked. An unsigned 3rd custom ROM may not have gone through the thorough tests that we run for each device and software version that we release.
Also, a 3rd custom ROM might not work properly on your device, and certain functions and offerings may cease to work. The performance and your data of the device might also be affected, and you may damage your device permanently. In worst case, unlocking the bootloader will cause physical injuries or material damage, for example, due to the device overheating.
The secure user data partition may also become inaccessible, and you will not be able to get any more official software upgrades if you unlock the bootloader.
Didn't find what you were looking for?