1
Uzupełnij i prześlij swoją aplikacje
2
Wyślij swoje urządzenie
4
Wysyłamy bezpośrednio do Ciebie
Moje zgłoszenia serwisowe
Poproś o naprawę
Learn about the spare parts charges for out-of-warranty phones.
Twoje dane zostaną usunięte podczas procesu naprawy. Proszę utwórz kopię zapasową wszystkich swoich danych.
Aby chronić swoje dane osobowe, usuń blokadę bezpieczeństwa i zresetuj urządzenie.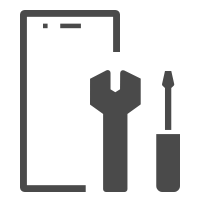 FAQs

Jak długo potrwa naprawa?
Zwykle naprawy trwają od 7 do 9 dni.
Uwaga: Aby nie opóżniać czasu naprawy sugerujemy wysłanie telefonu zaraz po zatwierdzeniu wniosku.

Dlaczego nie mogę wyslać zgłoszenie serwisowego?
Błąd przy przeslaniu zgłoszenia serwisowego może być spowodowane tym, że żądanie z tym samym numerem IMEI jest już w trakcie przetwarzania.
If this doesn't apply to you please reach out to us through support.

Czy mogę dokupić dodatkowe akcesoria podczas naprawy?
Nasze usługi naprawcze są ściśle ograniczone do naprawy lub wymiany urządzenia. Nie będziemy w stanie obsłużyć dodatkowych akcesoriów zakupionych podczas tego procesu.

Dlaczego muszę dostarczyć zdjęcia do zespołu naprawczego?
Zdjęcia pomagają naszemu zespołowi zidentyfikwować oraz przyśpieszyć proces diagnostyki