1
Aanvraagformulier invullen en verzenden
3
Inspecteren en repareren
4
Apparaat veilig terugsturen
Track repair status
Mijn serviceaanvragen
Reparatie aanvragen
Learn about the spare parts charges for out-of-warranty phones.
Tijdens de reparatie worden je gegevens gewist. Maak een back-up van al je gegevens.
Bescherm je gegevens door het veiligheidsslot te verwijderen en het apparaat te resetten.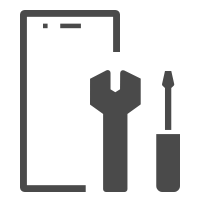 Veelgestelde vragen

Hoe lang duurt de reparatie?
Meestal duurt een reparatie ongeveer 7 tot 9 dagen.
Opmerking: Voor een snelle behandeling van je reparatieaanvraag raden we je aan om je telefoon zo snel mogelijk op te sturen nadat je aanvraag is goedgekeurd.

Waarom kan ik geen serviceaanvraag indienen?
Als je aanvraag mislukt, is dat misschien omdat er al een aanvraag met dat IMEI-nummer in behandeling is.
Als dit niet voor jou geldt, neem dan contact met ons op via de ondersteuning.

Kan ik extra accessoires kopen tijdens de reparatie?
Onze reparatieservice is uitsluitend bedoeld voor reparatie of vervanging van apparaten. Wij kunnen geen extra accessoires verwerken tijdens dit proces.

Waarom moet ik foto's opsturen naar het reparatieteam?
Foto's maken het probleem sneller duidelijk en zorgen voor een snellere diagnose.